Forest & Bird Reserve
A 35ha reserve at the top of the bay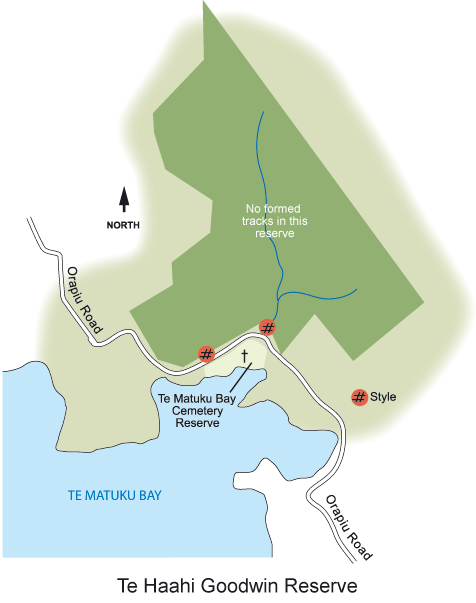 containing some of the best remaining pockets of kauri, podocarps & broadleaf species in the area, including good examples of flora & fauna not commonly found. The reserve has some of the largest kohekohe on the island & a number of large kauri that were somehow spared from saw & axe.
Te Matuku Marine Reserve
Te Matuku Bay is one of the few remaining examples in northern New Zealand of an uninterrupted sequence of ecosystems - protected areas on land link native bush with coastal wetlands, mudflats & out further to the deeper water of the Tamaki Strait. The 690ha marine reserve was established in 2005.
DOC Scenic Reserve
DOC has a number of land-based reserves in the area, with the Te Matuku Bay Scenic Reserve being the largest, at 52ha. The scenic reserve's bush-clad slopes form the main catchment behind the shell spit & play a sequential role in the health of this bird breeding ground.
Reversion
'Nearby, Day's Bay is an example of reverted farmland. As the bush was felled for timber & firewood the land was cleared & grassed, but it was eventually sold in 1910 and... "in accordance with their wishes, the land on which Martin Day and his sons had toiled so hard was allowed to revert to bush and the farm disappeared as it was quickly recaptured by tea-tree."
- Excerpt from 'Waiheke Pioneers'
by Dixie Day -
Logging
Much of the Waiheke's rural landscape was modofied by pioneer logging carried out during the early to mid 1800's. Spars, building timber, firewood & kauri gum were extracted from the hillsides around Te Matuku Bay by early settlers who then farmed the cleared land, though economic factors eventually lead to much of it 'reverting' back to bush.
Fenwick Reserve
360ha of privately-owned regenerating bush on the western side of Te Matuku Bay was covenanted under the Reserves Act in 2002, preserving the undeveloped nature of the block. It forms a significant link with other bush blocks & enhances the adjacent marine reserve. A vested pathway through the reserve links Te Matuku Bay with neighbouring Awaawaroa Bay.